Shiba Inu seems to be on fire as an unknown wallet burns over 10 billion Shiba Inu tokens in a single transaction.
Shiba Inu seems to be setting burning track records as a single anonymous wallet burned over $124,300 worth SHIB in a single transaction. The transaction sets a record for the largest single transaction ever since the launch of the Shibburn portal.
Shiba Inu burn rate on fire
Shiba Inu's burn rate is literally on fire as the burn rate is recorded at 786.17% in the last 24 hours. The last 24 hours also witnessed over 12 billion SHIB tokens burned by the burn portal.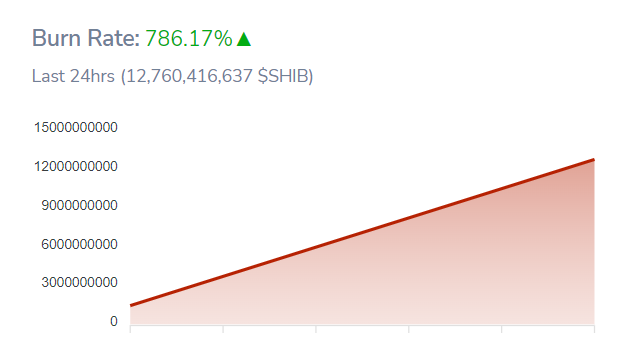 Before this enormous transaction, Etherscan.io data shows that on April 24, 2022, the unknown wallet delivered 1,325,571,332 (1.32B) SHIB, valued at $32,346. The tokens were sent in two different transactions to the dead wallet (the very next day of the SHIB Burn Portal Launch).
Yesterday we reported a staggering 1.5 billion SHIB burned by the SHIB burn portal in 24 hours. Just when we thought that yesterday's burn rate was massive, today amazed us with the massive 10 billion SHIB single transaction burn.
The SHIB burn site has been visited by thousands of people. The burn gateway was believed to have burned nearly 410,356,373,719,638 Shiba Inu up until today. The entire burning process is designed to make them scarce in order to create demand and push up prices, which is the ultimate purpose of any burn portal.
SHIB's burn measures, on the other hand, have been woefully inadequate in terms of Shiba Inu prices. During the time of publication, SHIB was trading at $0.00001175, a 4.5% downward movement on the daily charts, with a 24-hour trading volume of $429,055,481. SHIB is down 86% from its all-time high of $0.00008845, set on October 28th, 2021.

Credit: Source link