The first ten days have evidently been quite sloppy for most of the market's meme-coins. Right from DOGE and SHIB to ELON and FLOKI – almost all of them have witnessed dips since the beginning of this year. However, Baby Doge has been a peculiar one and revolting against the bearish market.
Baby Doge pumps amidst broader slump
However, Baby Doge Coin – another prominent meme-coin from the space, has been defying the trend. By doing so, it has already rallied by more than 99% in 2022.
What's more, after fetching HODLers over 10% returns in the past 24-hours, Baby Doge was seen trading at $0.000000003849 at the time of press. In fact, as can be seen from the chart attached below, its rally over the past month has been quite phenomenal.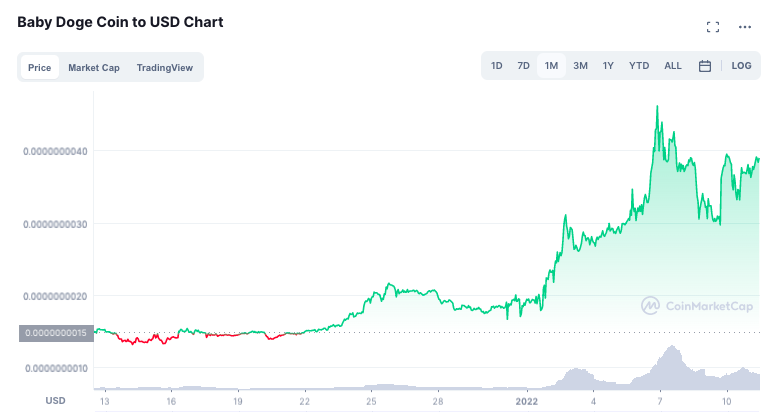 Baby Doge-just not another dog-themed coin!
Baby Doge was one among the other 'random' meme coins in the space until a few months back. Its popularity sharply rose after 'DogeFather' Elon Musk tweeted a wriggled lyrical version of the Baby Shark Dance song.
Since then, BabyDoge has not missed an opportunity to climb up on the charts.
Baby Doge shares a lot in common with the OG Dogecoin but has not much to do with it on a technical level. Dogecoin exists on its own blockchain network, while Baby Doge runs on top of another blockchain's infrastructure.
Dogecoin, as such, is a Luckycoin fork – now-defunct crypto that was forked off from Litecoin on its part. BabyDoge on the other hand was developed on the Binance Smart Chain.
Not a baby anymore
BabyDoge has been making notable advancements on almost all fronts of late. As per data from BscScan, BabyDoge has already managed to amass over 1.197 million HODLers – which is quite a remarkable feat for a coin with a diluted market cap of $1.554 billion.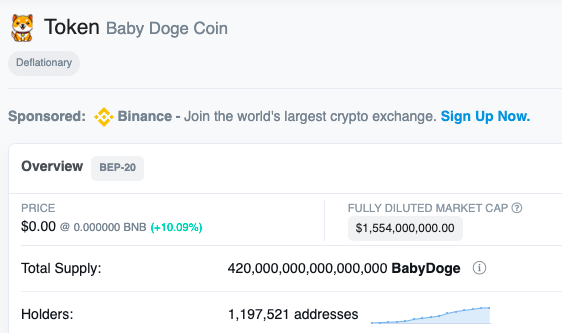 Additionally, this coin has been on a record-making spree of late. For starters, it just surpassed SHIB in the aforementioned HODLer count aspect. What's more, its 24-hour trading volume too surpassed the $100 threshold of late.
Thus, with metrics portraying satisfactory readings, it looks like Baby Doge Coin would likely continue defying the broader bearish trend.

Credit: Source link