It seems to be a bloody bad time for stablecoins. After Terra's UST recently fell from grace, Fantom-based Deus Finance's DEI is the latest to join the bandwagon.
According to CoinMarketCap statistics, DEI, a hybrid algorithmic stablecoin from the DeFi protocol DEUS Finance, lost its dollar peg on Sunday. At press time, DEI was trading at $0.65, down by 31.9% in 24 hours. The coin is also down by 34.5% over the last week.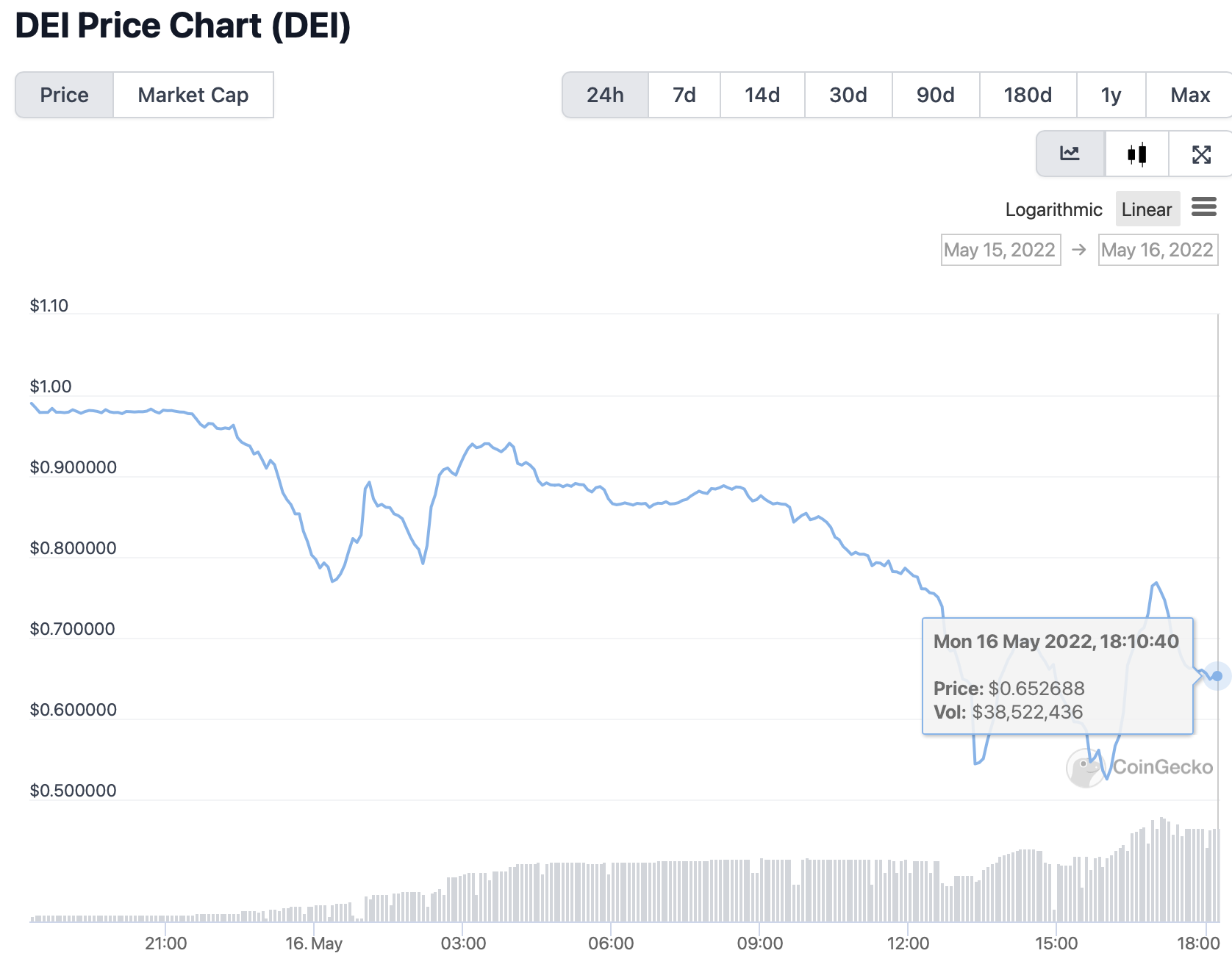 A Fantom-based decentralized finance (DeFi) project, Deus has a market valuation of approximately $62 million. It is made up of 10% DEUS tokens and 90% other stablecoins. DEUS Finance's stablecoin, albeit similar to Terra's UST in many aspects, is collateralized (unlike UST).
DEUS and DEI are the two tokens used by Deus Finance. The first is the project's native governance token, while the second is a stablecoin tied to the US dollar.
DEI's dollar peg is stabilized similarly to Terra's UST, using a mint-and-burn system identical to DEUS and DEI.
Unless another kind of collateral is utilized, the DEUS collateral is burnt (removing the tokens from circulation) during DEI minting (such as USDC, FTM, or WBTC, for example). DEUS tokens are produced alongside the underlying collateral when DEI is redeemed for it.
Why is Deus Finance's DEI falling?
DEI, which had been trading 3 cents below its peg on Sunday, dropped 20 cents on Sunday night as traders presumably switched DEI tokens for USDC due to a lack of liquidity on decentralized exchanges, causing price volatility. Lower prices prompted additional traders to sell DEI for other tokens, ostensibly to hedge against risks, further lowering the price.
Separately, Deus developers had previously suspended a DEI redemption mechanism, which enables investors can exchange DEI for other tokens, which might have contributed to the drop.
As a result, developers on Deus' Telegram channel noted that the decreased liquidity was due in part to traders abandoning stablecoin pools following UST's collapse last week, as well as weaker-than-usual support for DEI tokens following a $13.4 million Deus protocol hack in late April.
Stablecoins based on algorithms is designed to automatically peg to the price of another currency. Unlike centralized alternatives like Tether (USDT) and USD Coin (USDC), which are backed by actual dollars or similar assets held in a bank, they are decentralized. It seems that stablecoins that are based around some fancy algorithm seem to be getting chewed up.
Credit: Source link