Bitcoin dropped by 10% this week and yet, Enjin Coin could not be bothered less. ENJ was up by 19.8% in the past 7-days, as the gaming token had kept bearish pressure at bay. It reached an all-time high of $4 back in April, and it came close to value today at $3.92. At press time, ENJ is exhibiting litte bit of correction as the token remained at 57rd in the rankings. Above all, Enjin Coin had a market cap of $3.4 billion at press time.
Enjin Coin 4-hour time frame
Enjin reciprocated a parabolic curve spike over the past week as the coin reached its market top. A higher-time frame resistance at $4 was the immediate target however, it was reached or tested over the past 24-hours. Now, at press time, the parabolic curve has potentially undergone a breakout. In order for ENJ to continue moving forward, a healthy might take place over the next few days.
The digital asset has immediate support at $3.40 and 2nd support is present at $3.20. 50-period Exponential Moving Average continues to lead 50-Simple Moving Average, therefore, bullish strucutre remains rigid. But, a drop down to $3.40 might be in the cards for the digital asset.
Market Indicators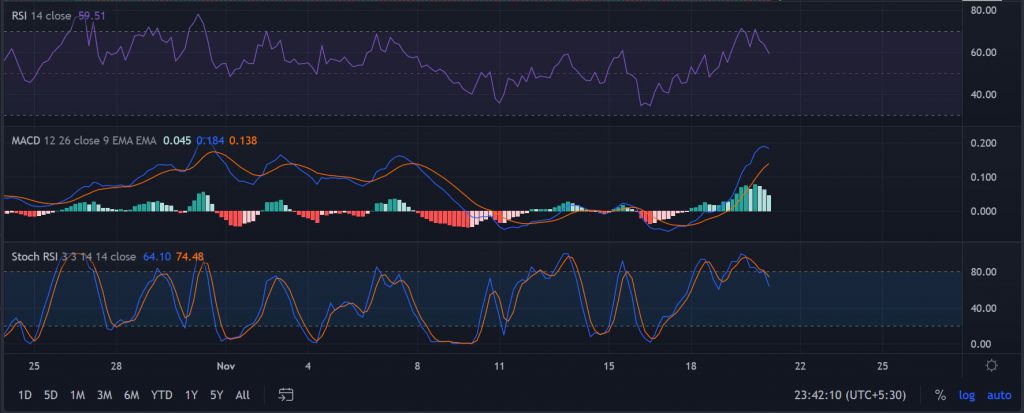 Market Indicators are majorly bullish for Enjin Coin. Relative Strength Index or RSI indicated position near the over-bough region. It suggests short-temr corrections but momentum is on the buyer's side. Similarly, MACD suggested a bullish trend as well with the MACD line(blue) hovering over the signal line(orange). After that, Stochastic RSI exhibited built bearish pressure as a bearish trend reversal was observed between the trend lines.
How to trade Enjin Coin now
In conclusion, Enjin Coin could be expecting corrections down to $3.40 as its immediate support. However, with the collective trend being bullish, ENJ may push forward to register a new ATH in a short-time.
The post Enjin Coin Price Prediction: $3.40 detour before $4 target? appeared first on Watcher Guru.
Credit: Source link