The cryptocurrency market faced its worst crash last week as Bitcoin slipped below the $29,000 mark. Add to its woes, TerraUST and LUNA plummeted to $0 dramatically falling straight to 100%. The crash was unlikely anything the crypto sphere witnessed in recent history and sent shockwaves highlighting that not everything labeled 'stable' is indeed stable. Investors are making use of the recent dips by accumulating more cryptos and one such token that saw a rise in the number of holders is Shiba Inu. In just a week, more than 15,000 new holders entered the SHIB fold as its price headed south.
Read More: Here's How Many 'Zeroes' Shiba Inu Deleted From May 2021 to 2022
A recent report on the most Googled cryptocurrencies in Europe shows Shiba Inu taking the second spot. The sweet first spot is taken by Bitcoin as Europeans Googled it the most. Ethereum, Cardano, and Dogecoin take the third, fourth, and fifth positions respectively.
Shiba Inu is the most Googled cryptocurrency in Russia, Ukraine, Hungary, Austria, Italy, Switzerland, Spain, Portugal, Denmark, and the United Kingdom. On the other hand, Bitcoin is the most Googled in Germany, Finland, Iceland, Poland, and Belarus among others.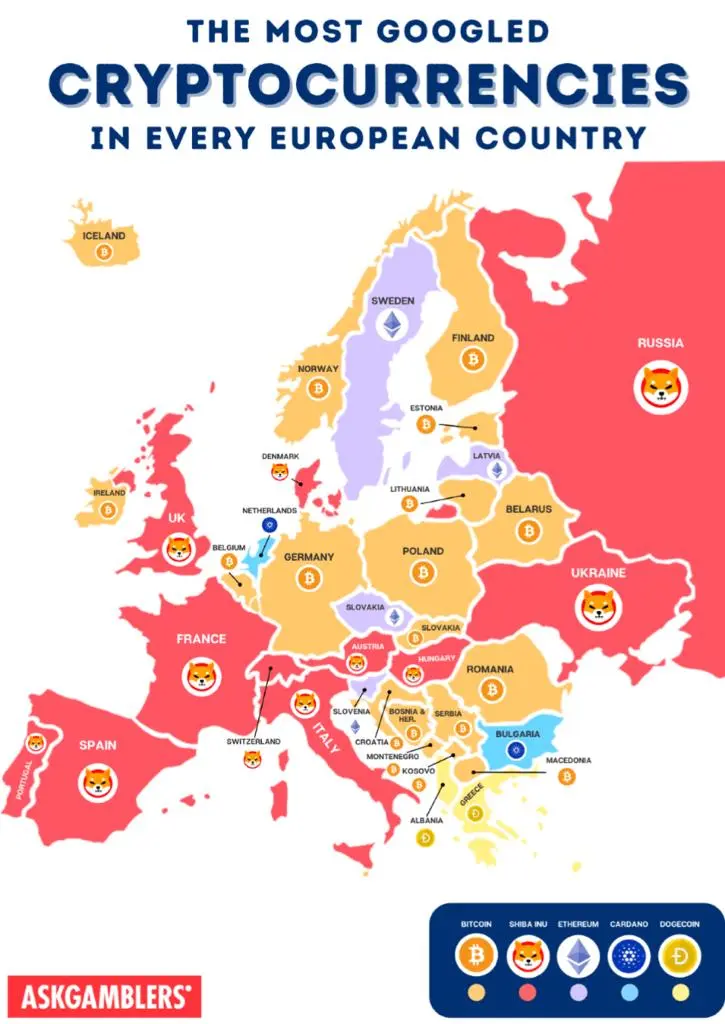 The increase in popularity comes at a time when both Bitcoin and Shiba Inu experienced a drastic dip last week. This indicates that investors are either worried about the market crash or are planning to buy the dips.
Read More: Here's When Shiba Inu Could Shoot up in Price
Bitcoin & Shiba Inu
A recent poll conducted by Benzinga shows that investors believe Shiba Inu will reach $0.001 much faster than Bitcoin reaching $100,000. Below is the breakup of the poll:
Bitcoin will reach $100,000 first: 35.7%.
Shiba Inu will reach $0.001 first: 64.3%.
One possible argument for investors favoring SHIB over BTC could be the support for the underdog. Also, investors who feel they've missed out on BTC have loaded millions of SHIB in the hopes of it 'mooning'. Nonetheless, BTC and SHIB have been trading on the back foot this week and are slumping in the indices. A bull run or a quick recovery is nowhere on the cards and the market might take time to recover.
Read More: When is Shibarium Launching? Shytoshi Kusama Responds
At press time, Bitcoin was trading at $30,086 and is up 0.5% in the 24-hours day trade. On the other hand, Shiba Inu was trading at $0.00001218 and is down 2.2% in the day's trade.
Credit: Source link