Right from serving as a store of value to acting as a medium of exchange, currencies from the crypto space have been able to serve as proxies for, both, fiat money and traditional asset classes like gold, bonds, and stocks.
Consequentially, conventional financial asset dealers have already started feeling that crypto is stealing the thunder of OG assets. As a measure to attract back customers, merchants are now trying their best to provide investors with the best of both worlds.
Shiba Inu to the rescue
Shiba Inu's popularity amongst, both, crypto and non-crypto investors has soared over the past few months. Time and again, it has been able to garner more traction when compared to other top coins. So, what token is better than SHIB to lure investors back into the traditional asset arena?
One of the US' largest e-commerce precious metals retailers APMEX has come up with a way to draw crypto enthusiasts' attention toward assets like gold. The dealer's recent listing includes a Shiba Inu-themed gold "round".
Per the product details on the website, the coin is developed in collaboration with BitPay. As such, these ".9999 fine bullion rounds" are a "great way" to add crypto-themed physical gold to HODLings.
What the product looks like?
As such, each round contains 1 oz of .999 fine gold and comes in a capsule. Multiples of 20 are packaged in heat-sealed rolls. The obverse, as can be seen above, features a rendition of Shina Inu, and the ticker "$SHIB" is displayed above the logo. The reverse essentially features the loop and clasp elements of a dog leash. "1 SHIBA INU COIN," "BITPAY," weight and purity are displayed along the edge.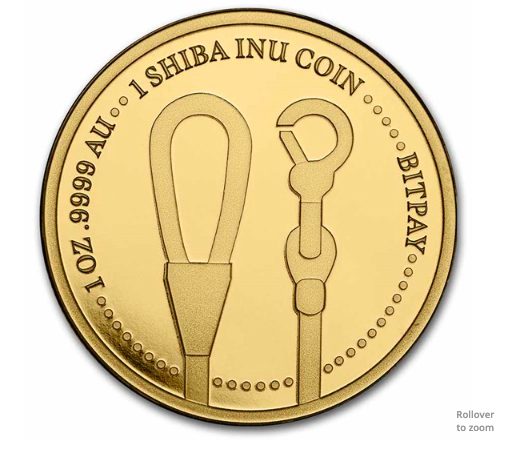 Per the retailer,
"These Gold rounds can serve as an effective way to defend against inflation."
Looking beyond Shiba Inu
APMEX's website offered gold coins with logos of other prominent cryptos including Shiba Inu's fiercest rival DOGE, the OG king-coin BTC, and the alt-king ETH. The said products could essentially be bought either using traditional payment methods or via crypto.

Credit: Source link